Why Luther Taylor only uses 100% Organic Jojoba Oil in their luxury hand-crafted beard oil.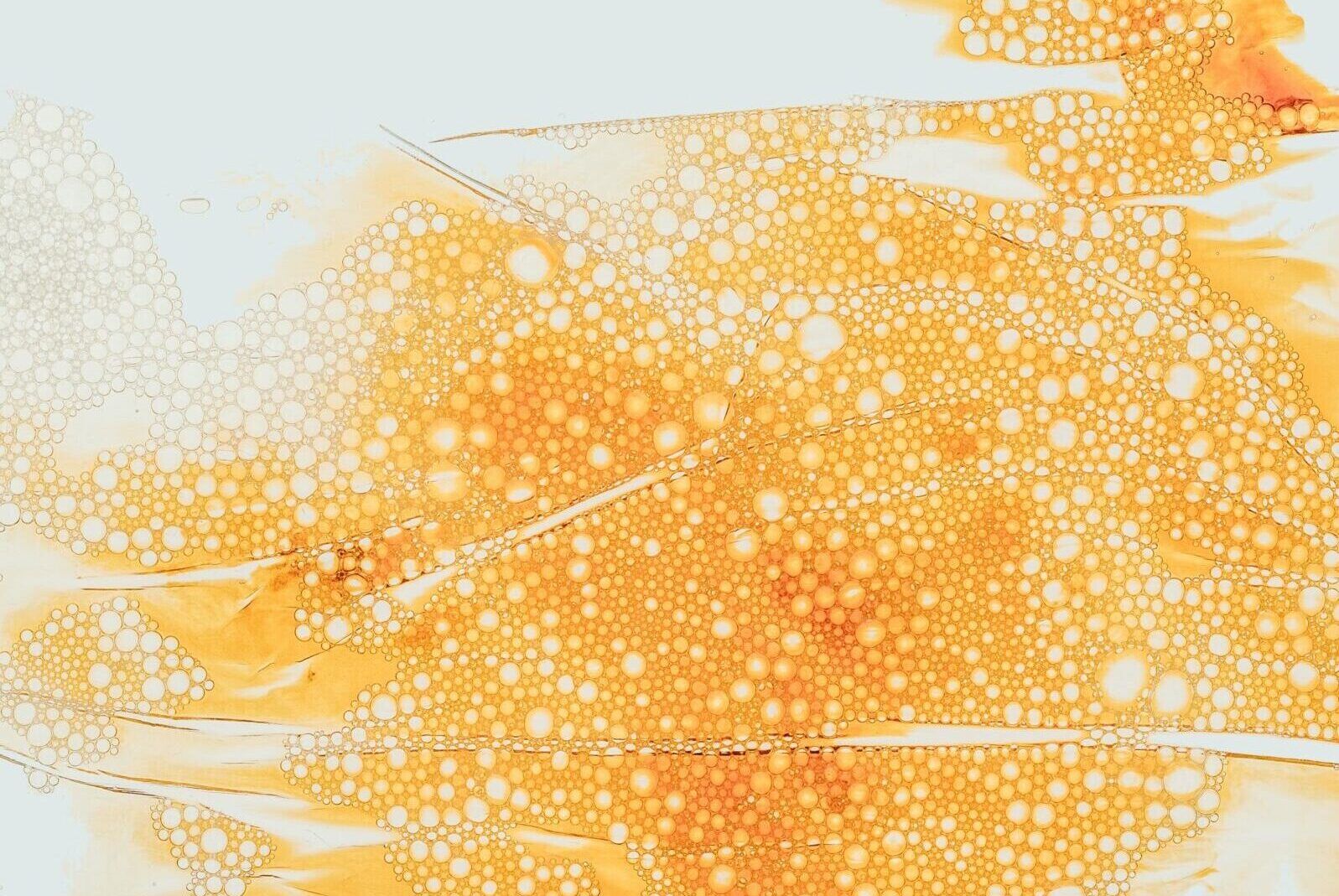 Why Luther Taylor only uses 100% Organic Jojoba Oil in their luxury hand-crafted beard oil.
Published on:
Why Jojoba Oil?
The way you choose to use Jojoba oil is simply your preference; however, listen to why more Dermatologists in the US and around the globe are voicing their opinions on how there are fewer products on the market today; that is as straightforward as Jojoba oil. There are so many oils out there, and choosing the right one for your daily beard oil, body, and face may not be easy to figure out. Dermatologists like the fact that Jojoba is not considered an oil but a liquid wax, the first study confirming this in 1933. Jojoba oil is not a triglyceride but, in truth, a mixture of long-chain esters (97-98%) of fatty acids and fatty alcohols. Therefore, Jojoba oil is more appropriately known as wax in the industry. Also, the fact that Jojoba oil is so like our natural sebum our bodies already produce and by using products with 100% Jojoba oil the mimics the skin's sebum production and therefore balances out the skin by not overproducing oil where it is needed and is excellent for you beard and face, along with a perfect choice for acne-prone skin. Lab tests have shown that although Jojoba oil does not kill all bacterial or fungal species, it has been known to kill those that cause salmonella, E. coli, and candida.
Jojoba oil is considered "Nature's Oil" or "Nature's Golden Oil" and is produced in a Simmondsia Chinensis Plant seed. A perineal shrub plant that derives and is cultivated from a slow-growing process in a harsh desert environment and can survive up to 200 years in the wild. Native to southern California, southern Arizona, and the northwestern area of Mexico, the oil makes up about 50% of the seed. It is harvested by cold pressing, which allows the oil to retain its rich nutritional values and allows you, the end-user, to benefit. 
The boiling point of Jojoba oil is 10 degrees C and the freezing point 7-10.6 degrees C. When choosing a product, remember that you receive the key benefits of that oil when it is in its most natural form of 100% as a carrier base and not mixed or diluted with a montage of other oils. The shelf life of pure 100% certified organic cold-pressed unrefined Jojoba oil is five years, making it the most stable and sustainable shelf-life oil on the market. Certified organic, unrefined Jojoba oil should appear as a clear golden liquid and be unscented.
To reap from the key benefits source products that are in one carrier oil base and an all-in-one natural organic product. Jojoba oil is just that, no GMOs, no artificial colorings or chemicals, no animal testing, and 100% organic, ecological, and sustainably cultivated and harvested.
Jojoba oil can be used safely and effectively on all skin types and used as beard oil, body moisturizer, face condition, and hair. It is excellent as a face and body moisturizer. Jojoba oil is a humectant ingredient, which simply means it works to seal your skin along with a protective barrier to keep your skin from losing its natural moisture. Jojoba oil contains rich Vitamins E, A, and C and contains Copper and zinc. Because Jojoba oil strengthens and moisturizes hair, it is also thought that it aids in hair growth, promotes hair thickness, and prevents hair loss if used in a daily grooming routine. Jojoba oil has been proven to moisturize the hair shaft with Vitamin E, giving dull-looking beards and hair a beautiful shine and texture. Because a man's beard is a beautiful thing, and it should feel soft, making one's face cozy and tactile.
With the daily use of a 100% Jojoba-based oil grooming product, you also get to reap the benefits of a "Delay in Grey." Jojoba oil contains antioxidants that help our skin defend itself against free radicals that can cause a delay in aging. Jojoba oil contains Copper naturally and is a potential anti-aging compound. There is no research that can link Jojoba oil to anti-aging. Still, the antioxidant properties, natural Vitamins, and Cooper found in the oil at its 100% form have been studied and shown to improve the skin elasticity that may aid in and improve signs of aging when used on your face and skin.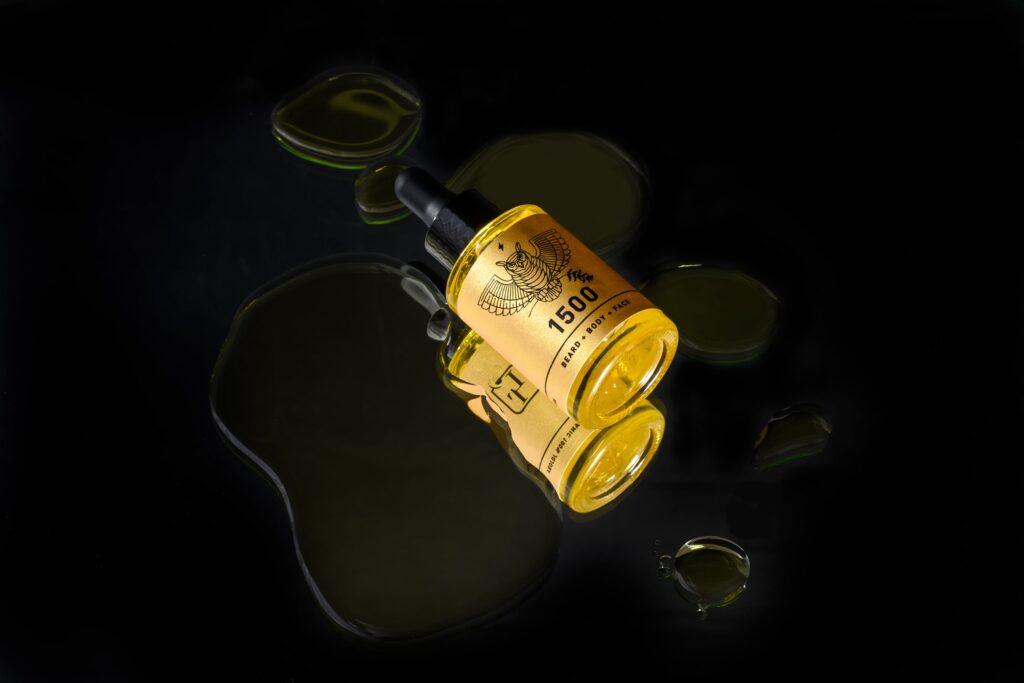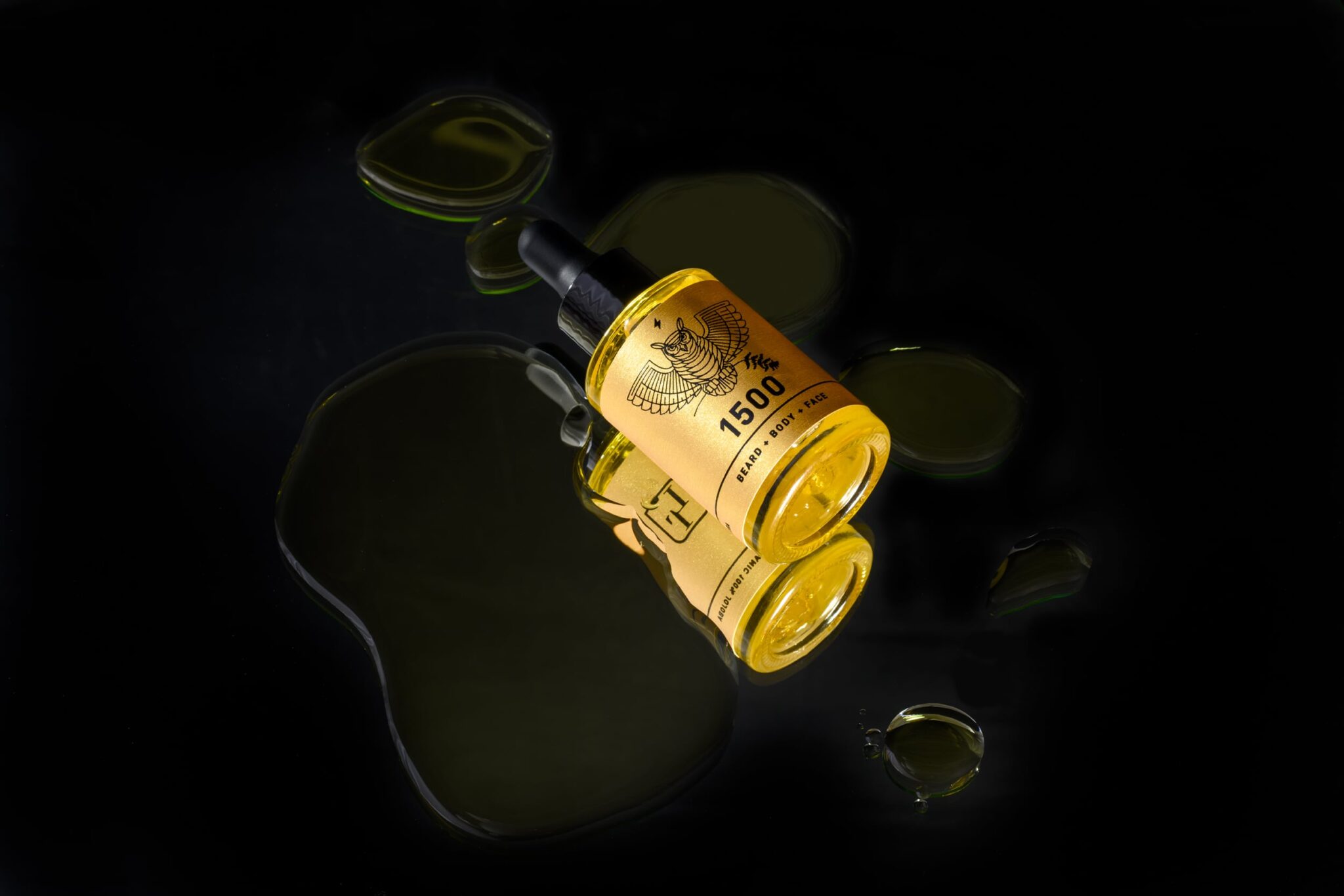 Copper deficiency can lead to the loss of pigment and cause premature grey hair and beard because Copper is currently being researched as a potential topical anti-aging compound. You may reap the benefits of slowing down the hair and beard aging process using Jojoba oil, which contains Copper and Vitamin C and E. Promotion of Collagen synthesis is a key benefit of Jojoba oil; collagen decreases as we age, which in turn is part of the reason our facial structures change as we age, at least one study links the benefits of antioxidants to improve collagen synthesis. That study was done by the National Institutes of Health and the library of medicine. Jojoba oil is not an irritant and can be easily used around your eye area and sensitive skin.
The anti-inflammatory compounds found in Jojoba oil help your skin benefit from dry, itchy, and flakiness. It is the perfect oil to use for scalp dryness or dandruff.
Benefits of utilizing 100% Jojoba in Beard Oil
Let's do a quick overview of all the benefits you will receive when choosing 100% organic Jojoba oil as your choice-based carrier oil product for your beard, face, and hair. As we believe that the best beard oil to use on your beard, face, and hair is 100% organic Jojoba oil as the key benefits are numerous.
Moisturizer

Antioxidants

Anti-bacterial

Hypo-allergenic

non-comedogenic

Dry Skin

Acne

Anti-aging benefits

Oil Control

Collagen
The bottom-line jojoba oil as a beard oil has numerous healing properties that make it very effective in treating skin conditions, promoting healthy hair growth, and is used as a natural moisturizer for your skin. Jojoba used as a fragrance carrier and blended with your choices of luxurious scents should be used as part of your everyday grooming and skin routine; they are more volatile than those made with alcohol and more prolonged-lasting and maybe use as an all-in-one product. A beautiful golden all-natural, organic oil with healthy key benefits blended with a mesmerizing aroma will leave you with a pleasant smell that takes over the air and opens the album to wonderful memories that makes your mood lift, and you feel and look great!